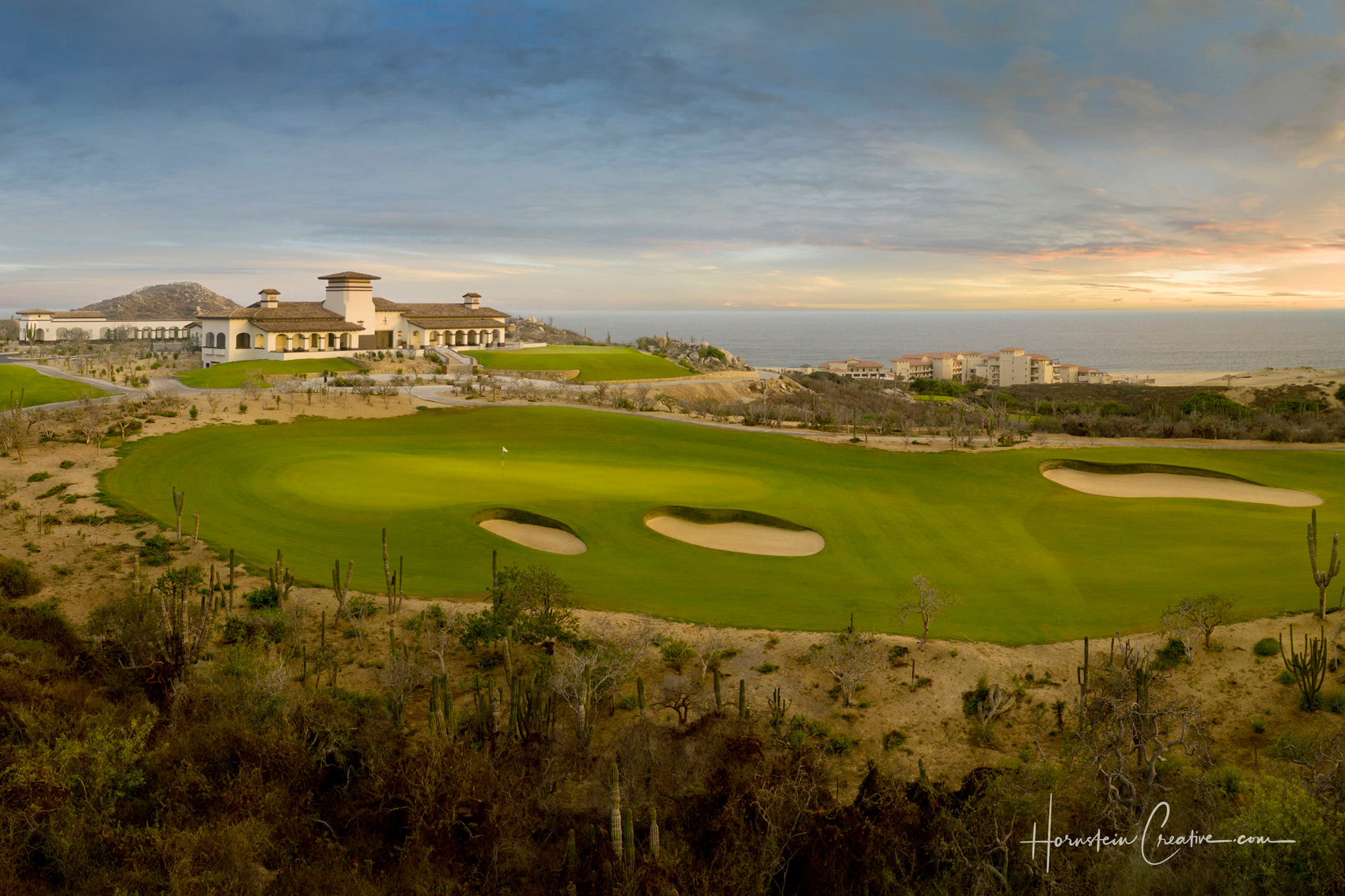 Rancho San Lucas: True to its Nature
August is National Golf Month, and Rancho San Lucas is celebrating by highlighting the excellence of its naturalistic golf course.
The club's destiny was set 15 years ago, when Solmar Group executives showed Greg Norman a beautiful parcel of land that rose up from the Pacific Ocean. When ground was broken on the long-awaited venue in 2017, the Aussie golf designer and entrepreneur saw a golden opportunity to create something truly special: a world-class, links-style course nestled in dunes that rambles through the desert and bellies up to the ocean.
From Day One, Norman's goal was to keep earthmoving to a minimum–and step lightly on Nature's toes. He told his design team, 'It's such an amazing piece of property, we're only going to clear the fairway corridors 10 meters at a time.' By working slowly, Norman could evaluate the site's topography, preserve its contours and construct the course in an environmentally responsible way. He also removed specimen trees and plants and sheltered them in a nursery, to be transplanted later. Rancho San Lucas Golf Club is a perfect illustration of his 'least-disturbance' design philosophy. It's also a sustainable golf course that is playable from all perspectives, including the forward tees.
Aware of the preciousness of water in the Baja desert, Norman sought to integrate indigenous landscapes in the design and use grass varietals that consume the least amount of water. For example, the club's greens, tees and fairways are surfaced in SeaDwarf Paspalum, a drought-resistant, disease-tolerant cultivar that requires a fraction of the amount of pesticides, insecticides and fertilizer used by normal grasses. Paspalum tolerates brackish water and can be irrigated with recycled water, an important consideration in Los Cabos. The grass responds well to lower mowing heights: the speed of ball roll on the greens is consistent and true.
The layout's revetted pot bunkers are a perfect fit for a windswept, desert-on-ocean golf course. These sharp-edged, steep-walled sandy pits are the product of a British company that uses recycled materials, including artificial turf from U.K. soccer fields, to construct bunkers. The pockmarked hazards at Rancho San Lucas are nearly identical to the natural sod-walled bunkers found on British seaside links courses. Resistant to washouts, the club's synthetic low-maintenance bunkers are a first in Mexico.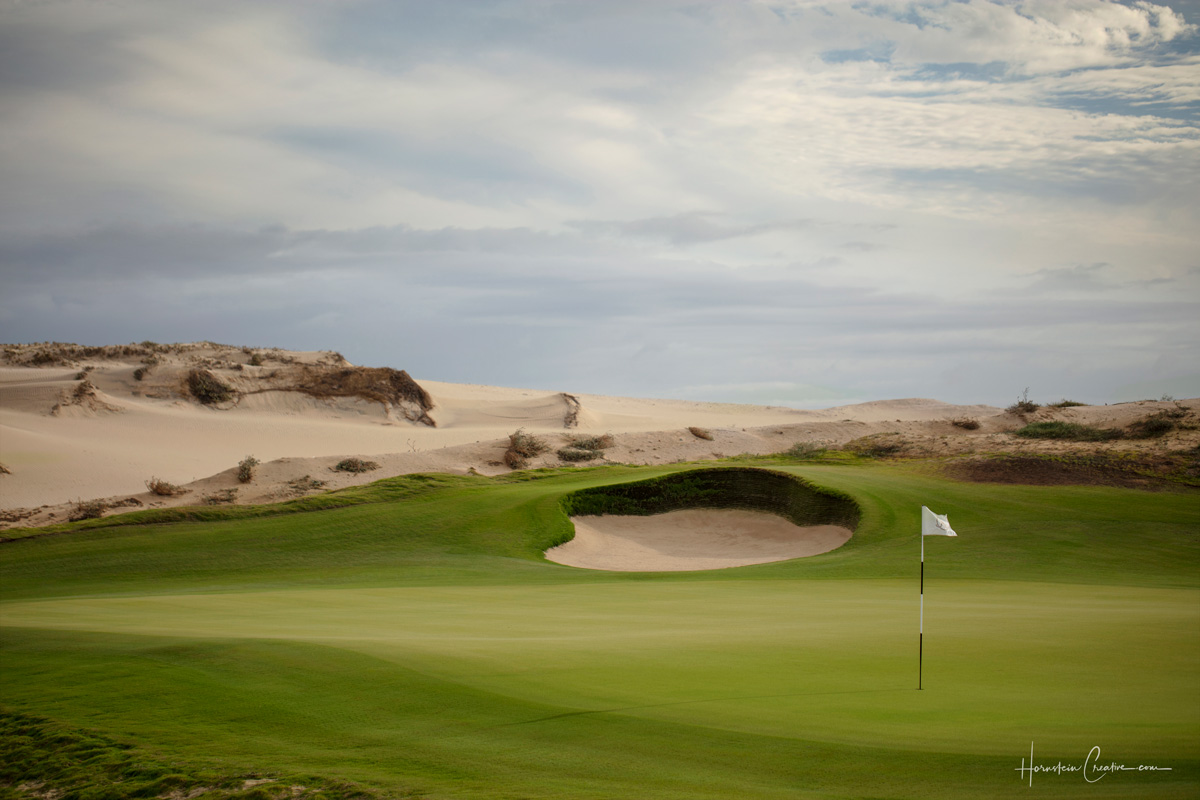 Demonstrating its commitment to environmental stewardship, Rancho San Lucas has applied to join the Audubon Cooperative Sanctuary Program (ACSP) for Golf Courses, a non-profit organization that stresses sustainable practices.
The ranch-style community was primed for the program from the beginning. For example, 106 acres of the development's total of 834 acres have been left in a natural state. An additional 186 acres is dedicated to the eco-friendly golf course. Together totaling 292 acres, this parcel represents 35% of the development and has resulted in the creation of a low-density resort community, an ideal fit for Audubon's model.
The golf club's partnership with Audubon is in line with the master-planned community's conservationist leanings. As residents and visitors have noted, the desert landscape at Rancho San Lucas is incredibly rich. There are turtle nests in the dunes. Herds of deer roam the grounds. There's also a wide variety of birds within the community. For example, the man-made lake at the par-3 17th hole attracts ducks, cranes, egrets, herons and other waterfowl that were not seen on site until the golf course opened.
ACSP is centered on six key environmental areas relevant to golf course management, each a focal point for achieving certification:
Environmental Planning
Wildlife and Habitat Management
Chemical Use Reduction and Safety
Water Conservation
Water Quality Management
Outreach and Education
Sustainability, a guiding byword at Audubon and throughout the golf industry, is critical for success in satisfying the sport's triple bottom line: people, planet and profit. Golf facilities are small businesses. The typical business model revolves around costs and revenues. Successful environmental initiatives offer tangible results in saving limited resources, including time, manpower, equipment, materials and funding. Bottom line: while benefitting the environment, sustainability makes good financial sense.
When it is certified later this year, Rancho San Lucas, the destination's newest course, will be the first flag-carrier for Audubon in Los Cabos. Mission accomplished for a community that set environmental goals early and later sought to exceed them.