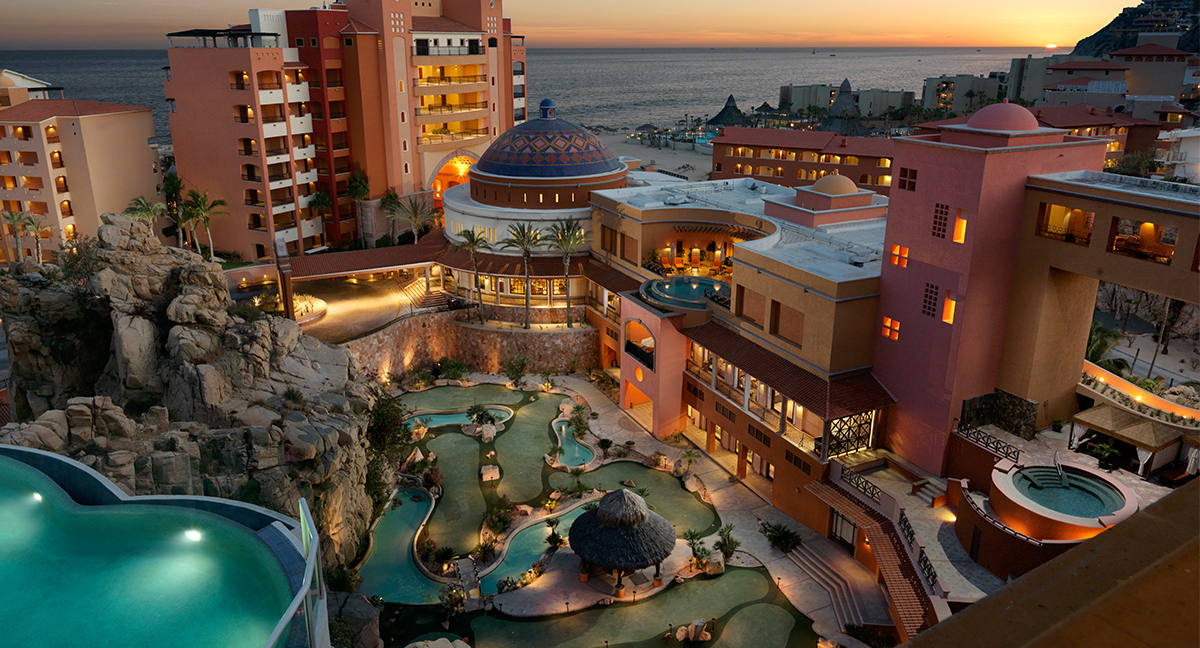 5 things you may not know about Los Cabos
Recognized around the world as a top beach destination, this piece of paradise called Los Cabos boasts beautiful landscapes and views that combine peaceful deserts merging with majestic seas. This Mexican destination offers travelers luxurious experiences in superb accommodations, award-winning beaches, pleasant weather all year long and world-class gastronomy. Even if you have visited this wonderful place, surprises abound in every corner, and at Solmar Hotels & Resorts we thought of sharing 5 interesting factsthat you may not know about Los Cabos.
A travelers' favorite
Cabo San Lucas has won —for the second year in a row— first place as a «Destination that set trends» and third place among «Popular Destinations in Mexico» list according to Travelers' Choice Award, an international recognition based on reviews and opinions by travelers from around the world on Tripadvisor.
Professional golf venue
By the early 1990's, Cabo San Lucas and San José del Cabo showcased two golf courses, today it is an exclusive golf destination with more than 15 courses, including the first 18-hole course designed by golf legend Greg Norman in Rancho San Lucas, the 338-acre resort community part of Solmar. This incredible sports canvas features revetted pot bunkers with British technology with recycled materials that stabilize the surface around the green —the first in Mexico to showcase such a kind of bunkers.
Opened in February 2020, the Rancho San Lucas Golf Club has received many recognitions, including the 2021 Golf Digest Editors' Choice Award.
Underwater sand falls
First discovered in 1959 by Francis Shepard, researcher at the Scripps Oceanographic Institute in San Diego, California, it was in fact Jacques-Yves Cousteau, the famous French naval officer, explorer, researcher and marine biologist who spread the word about this impressive underwater spectacle. This wonder belongs to the Cabo San Lucas' Flora and Fauna Protection Area (APFF), decreed in November 1973.
The marine currents that result from the Pacific Ocean's waters fusing with the Sea of Cortez, causes the erosion of marine soil into large amounts of sand that seem to fall like a cascade. This natural attraction, together with the Arch of Cabo San Lucas as the jewels of the destination.
Unique architecture in Baja
There are many impressive structures in Los Cabos, and one of them is located right at the lobby of Playa Grande Resort & Grand Spa, part of Solmar Hotels & Resorts. This incredible resort with a private beach and an array of experiences, has the largest dome in all of Baja, making the moment of arrival a special welcome to the destination. This architectural piece, 22 feet high and a radius of 35 feet, marvels visitors with earthy and bluish colors honoring the contrast between desert and sea. 
Sun, sea, sand and lagoons!
Perfect for every taste and age, Los Cabos remains top of mind when it comes to enjoying a vast array of experiences. The constant evolution this destination undergoes is a key factor to adapt to the new demands of travelers, challenging tour operators and companies within the industry to craft unique activities/services that are hard to find anywhere else. Beautiful beaches, dreamlike flora and fauna, unparalleled cuisine, and saltwater lagoons —just like the one found at Grand Solmar at Rancho San Lucas boasting the title of being the second largest salt lagoon built in Baja California Sur. An idyllic space to relax in a peaceful environment.
As you can see Los Cabos is a destination that, despite time, has a growing charm and magic. Rediscovering this paradise should be on your travel list if you aim to be surprised again with all it has to offer, and live a vacation full of unforgettable moments.
 See you soon!