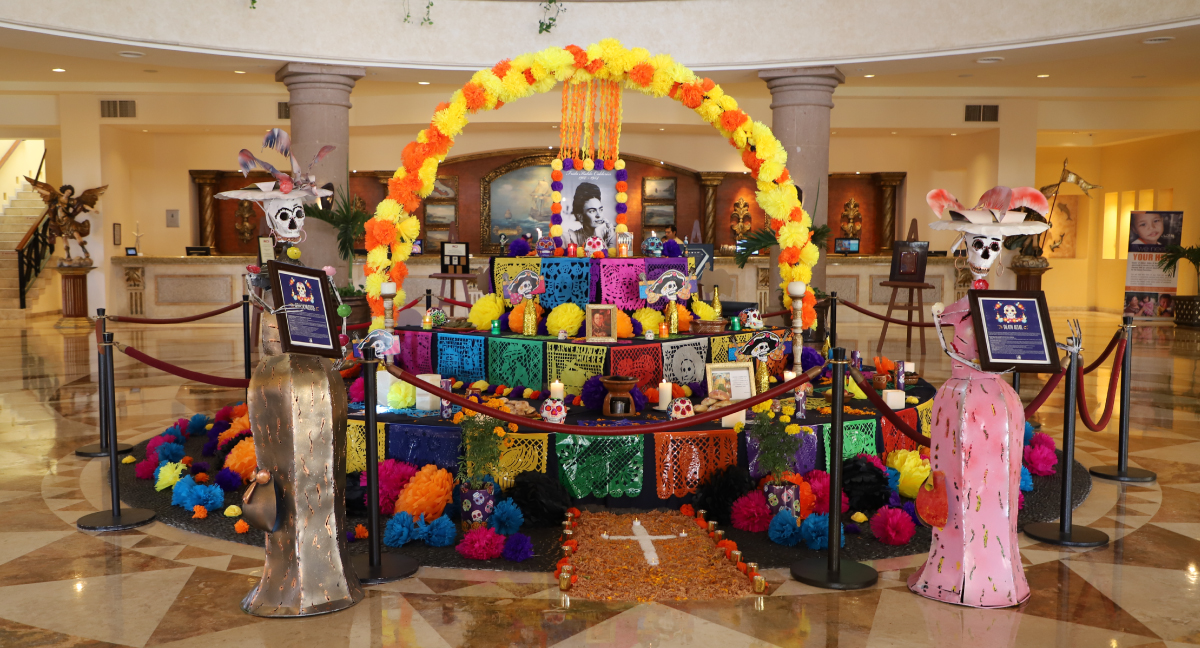 Day of the dead at Solmar Hotels & Resorts
Day of the Dead is celebrated in Mexico on the 1st and 2nd of November.
Each year, families around the country reminisce about their loved ones who have passed away.  The tradition is to build a tribute to them with a personalized altar of their favorite things, including food, drink, candies, music, board games, and clothing.  In this special way, only those who were closest to the deceased know which items should go on the altar.
After gathering these items, it's time to start designing the altar.
Aside from personal touches, other traditional elements of the altar include: candles, cempazuchitl flowers, "pan de muerto," a special type of sweet bread that is only served on this holiday, sugar skulls, water, a photo of the person to whom the altar is being dedicated, resin, decorative paper, a white tablecloth, and salt. 
Each of these elements holds a particular meaning:
Candles: 

the light of the candle illuminates the way for the soul to find the altar.

Cempazuchitl flowers: 

these colorful flowers represent the bright color of the sun that guides the soul of the loved one

Sugar Skulls: 

these treats represent the head of the loved one that passed away, and usually have the name inscribed on the forehead

Water: 

water not only represents purity, but is also placed to calm the thirsty soul after its long journey home

"Pan de muerto", food, and drink: these are placed for the soul to eat and drink when they arrive, and usually include the favorite dishes and beverages of the person to whom the altar is being dedicated
This wonderful and interesting Mexican celebration may be seen at Solmar Hotels and Resorts with an altar contest between the different departments of the resort.  Every year, starting on the 28th or 29th of October, each of the Solmar properties sets a beautiful altar in a public area so that it may be admired by the guests and members of the resort.  After November 2nd, a winner is named and a prize awarded to the winning team. The purpose of this contest is to keep the tradition alive and to involve our guests, so that they may learn more about the Mexican culture.  Keep your eye out for this year's contest!