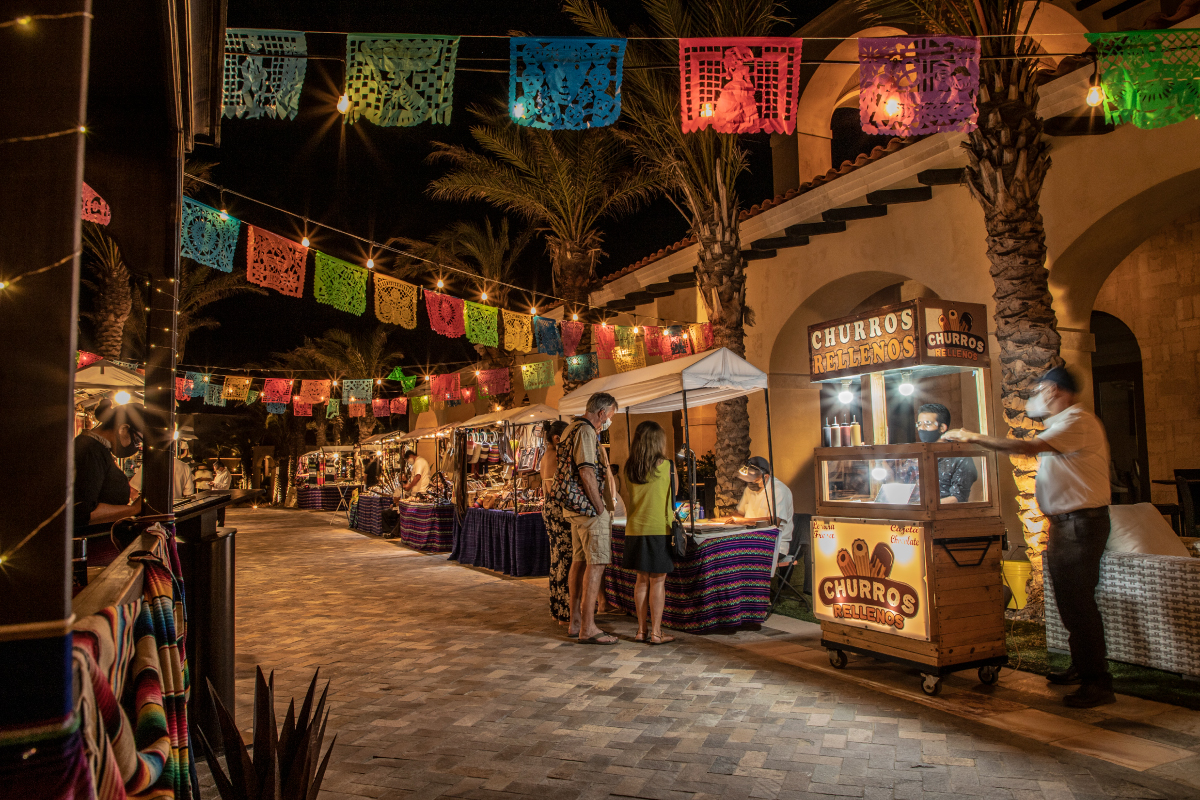 El Mercado A Mexican Fiesta to Remember
Born with the objective to offer an authentic taste of Mexican traditions to Solmar Hotel & Resorts guests, whilst helping local producers and artisans, El Mercado is sure to become one of your favorite happenings at Grand Solmar at Rancho San Lucas.
What is this Mexican fiesta about?
El Mercado has been designed to resemble a typical kermesse, with sold tickets exchangeable for goods at some of the many stands found under colorful papel picado streamers that dress up the venue. Other stands accept only cash to benefit local producers directly.
First showcased at Grand Solmar Land's End, the success of this vibrant fiesta was soon brought to Rancho San Lucas by Rodrigo Gutiérrez, General Director. As he describes it, "At El Mercado, guests are invited to immerse in Mexico's folklore and culture while admiring the artful pieces crafted by local hands, or indulge in typical delicacies and ancestral distilled liquors to live the spirit of our country."
Everything at El Mercado is about exploring and feasting your eyes —and palate!— while getting a taste of Mexico.
Culture and gastronomy in one place
Mexico possesses an extraordinary repertoire of cultural expressions, many of which can be enjoyed at this event that is programmed every Thursday from 6:00 p.m. to 10:00 p.m.
Ask the fortune teller —a cute little, colorful bird— about your destiny; try one of the most popular desserts in Mexico: churros; dance to Mariachi, Ranchero or Latino music; sip from your locally crafted beer and let the starry nights of Cabo take care of the rest.
Dinner under the stars
To complement the experience, Bacari Restaurant extends an invitation to enjoy an extraordinary menu on its terrace, just a few steps from El Mercado, included on your Meal Plan.
We truly hope you enjoy this Mexican Fiesta on your next visit to Grand Solmar at Rancho San Lucas!
If you are interested in reserving an unforgettable stay at Grand Solmar at Rancho San Lucas, please contact our luxury travel specialists at: concierge.gsrsl@solmar.com