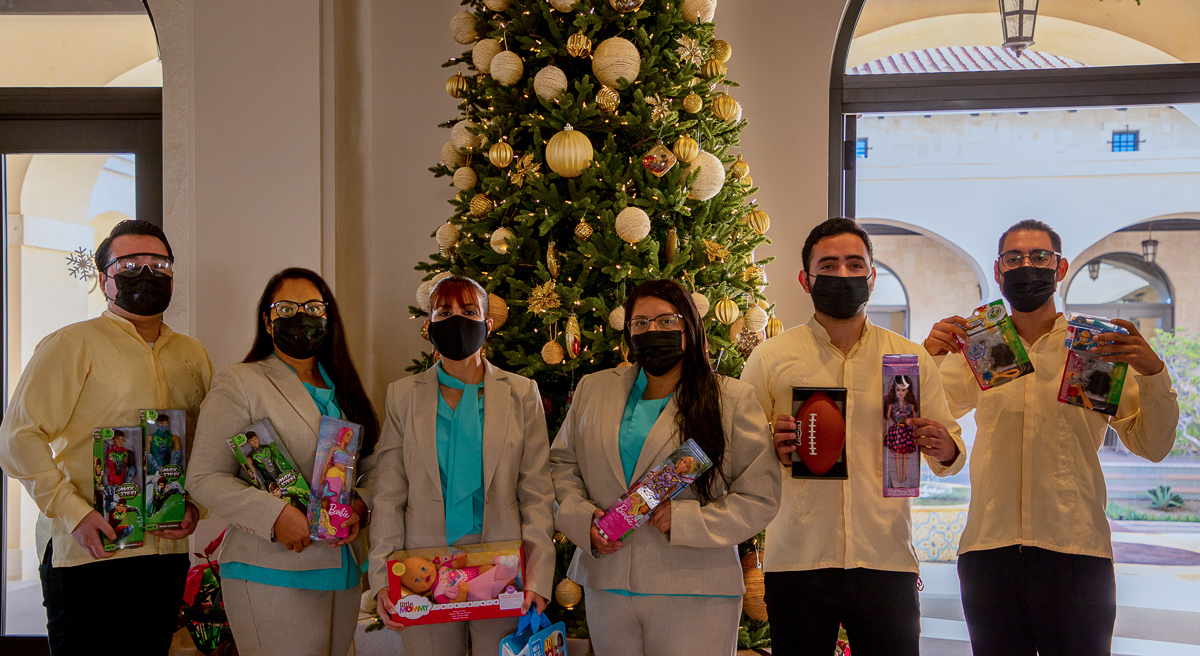 Solmar Foundation, collecting toys
to donate to the neediest children in Cabo
Being a world-class destination, Los Cabos attracts the savviest travelers from around the world and yet, there is still too much to be done to help the less privileged communities. That is why Solmar Foundation has acquired the commitment to lend a helping hand to members of the community that need it most, and to bring joy and health to their lives.
Now that holidays are around the corner, and children keep the dream to receive Christmas presents, the Foundation organizes an endearing task: to collect an important number of toys to be delivered during the Christmas Festival which has been carried out for 5 years now with great success.
Every year, all the staff members of Solmar Hotels & Resorts as well as guests and friends are invited to partake on the collection, and just in 2019, the Foundation was able to deliver presents to more than 600 children in vulnerable conditions, during a memorable event organized with the help of enthusiastic volunteers who set everything ready for a huge celebration.
This year, the Foundation aims to surpass 2019's goals, so in case you are eager to add hands for this noble cause, or to sponsor one of the many programs held, please feel free to contact Dinora De Haro, Director of Solmar Foundation to get more information about how you can help! Please feel free to call her at +52 (624) 145 7575 Ext. 74550 or write to info@solmarfoundation.org.
 About Solmar Foundation
The history goes back to 1955, when Luis Bulnes Molleda, founder of Solmar Hotels & Resorts, was appointed General Manager of the only tuna packing company in Mexico, based in Los Cabos. Don Luis —as he was respectfully known— was an empathic person who firmly believed that a destination is a reflection of its inhabitants: if they live a quality life, it directly impacts the well-being and tourist safety of the destination. So he looked for a way to help the community and founded the fire department and the nursing home. His last wish was to establish an association that could help improve the lives of those in need, and Solmar Foundation opened its doors in 2011. Now, it supports more than 30 associations along Baja California Sur state.