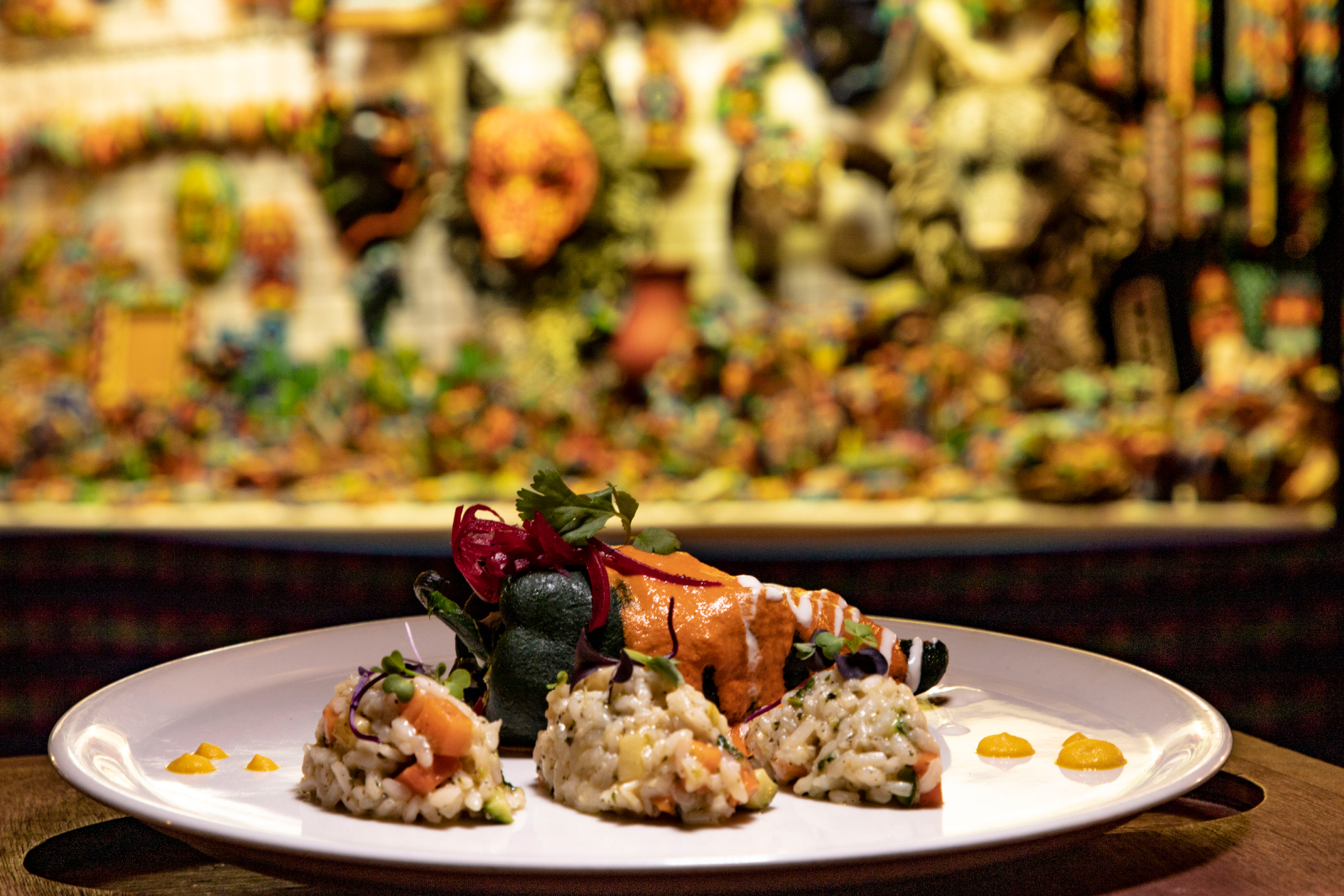 Special dishes to celebrate Mexican Independence
Mexico is a generous land full of biodiversity, infinite beauty and a vast gastronomy that varies from state to state. Being the month when Independence is celebrated, September is one of the best seasons to exalt Mexican gastronomy, and all the restaurants at Solmar Hotels & Resorts will celebrate our traditions with a selected menu of delicacies.

If you'd like to join this festival of flavors from home, we share the recipes of two iconic dishes, Chile en nogada and Tamales.
We hope you enjoy them!
Chile en nogada by Playa Grande Resort
Ingredients:
 7 oz Poblano chile peppe
3.5 oz Almonds (sliced)
3.5 oz Raisins
1 tbsp. Tomato paste
1 ¾ oz Castilla walnuts (peeled)
¾ oz Green apples
¾ oz Bosco pears
5 ¼ oz Ground beef
1 tbsp. Salt to taste
½ tbsp. Ground pepper to taste
½ tbsp. Thyme
½ tbsp. Bay leaf
14 oz Sour cream
2 oz Cream cheese
1.5 fl. oz.Milk
2 ¾ oz Pomegranate
2 oz Shrimps
Procedure:
· Dice the fruits and vegetables.
· On a preheated saucepan, add the precooked meat, then add the fruit and vegetables. Add the tomato paste and season with salt and pepper
· Roast the poblano chilis on a comal or saucepan until the skin appears burned. Peel and remove seeds and veins.
· Fill each chili with the meat.
 For the Nogada sauce:
· Blend the walnuts, milk, cream, cream cheese, white wine, sugar, salt and pepper until the mixture gets a thick consistency.
· Add salt and pepper to the shrimps and cook on a saucepan.
· Heat the stuffed poblano chili in the oven and serve. Pour some nogada on the top and garnish with shrimps and pomegranate pips.
Tamale with beans and mole, La Roca style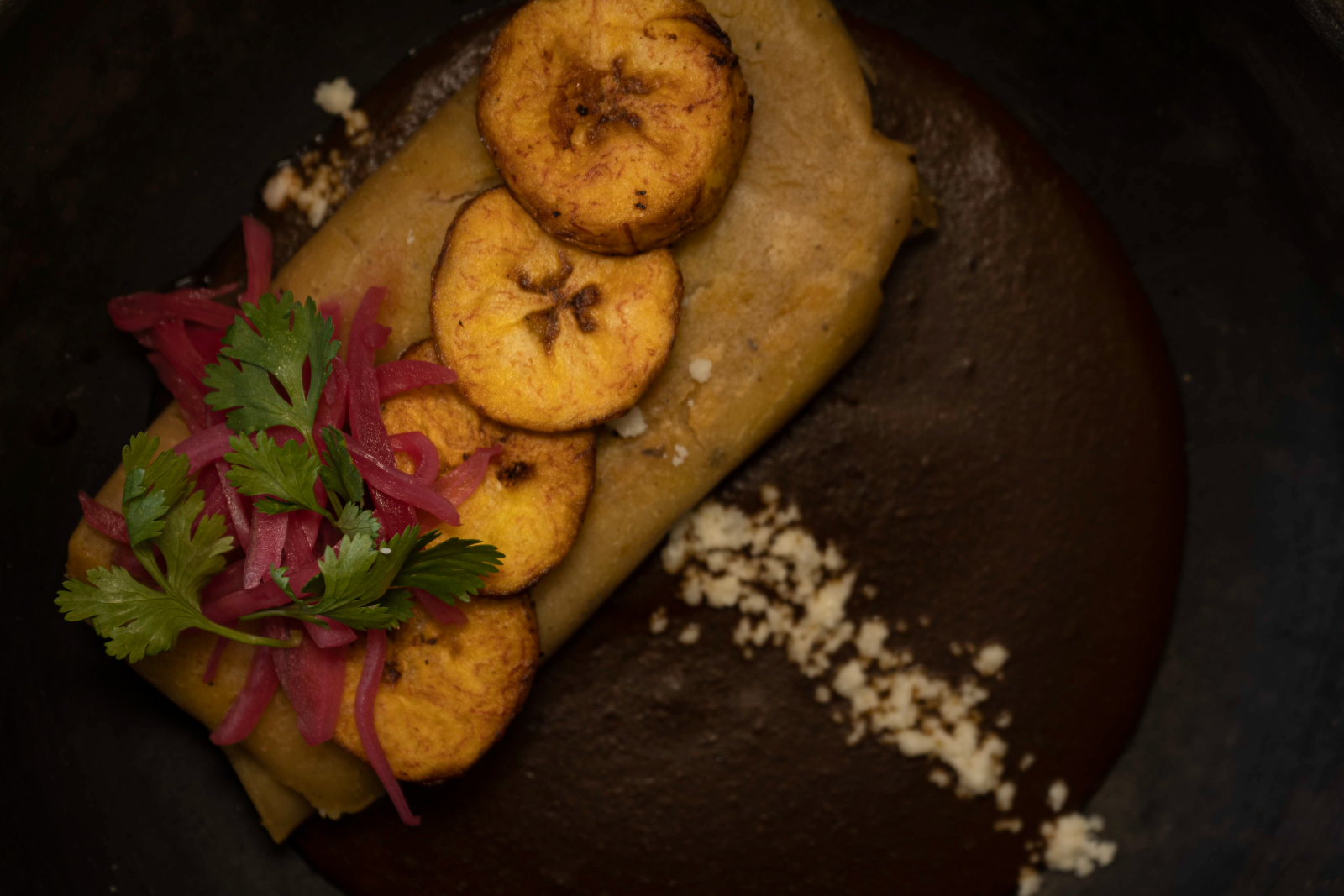 Ingredients for the tamale:
 17 ½ oz Corn flour for tamale
8 ½ oz Vegetable stock
6 oz Pork lard
⅓ oz Salt
1 ½ tbsp. Pepper
4 ¼ oz Refried beans
1 pc. Serrano chili
10 ½ Banana leaf
1 ¾ oz Panela cheese

Ingredients for mole:
2 ¾ oz Guajillo chili
2 ½ oz Chile ancho
2 ¾ oz Chile pasilla
1 oz Garlic
4 ¼ oz Onion
2 ¾ Plantain
5 ⅓ Tomato
1 ¾ oz Almonds
1 ¾ oz Peanuts
½ oz Cinnamon
¼ oz Clove
¼ oz Cumin
2 oz Chocolate
1 pc. Tortilla
1 pc. Salted bread (slice)
⅓ oz Salt
1 ½ tbsp. Pepper
 Procedure:
· Pour the corn flour in a bowl, add the lard and the vegetable stock, salt and pepper. Mix it using your hands, until you get a homogeneous dough, let the dough rest for about 15 min.
· Spread the mixture on the banana leaf, add the beans, the serrano pepper and the cheese, wrap and place them on a steamer for about 2 hours.
· For the mole, fry the three types of chilies, the onion, garlic, tomato, peanut, banana and almond, then add the vegetable stock. Bring to a boil and add the tortilla, the bread, cinnamon, cloves and cumin.
· Grind the mixture and add the chocolate little by little until it reaches the desired consistency.
Please share some pics of the final result

using the hashtag: #cookingwithsolmar